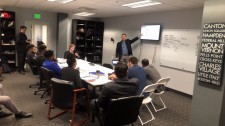 TOWSON, Md., March 29, 2019 (Newswire.com) - Chrome Solutions bridges the gap between traditional training methods and the modern corporate landscape. By creating fun, meaningful, mentorship-driven training programs, they have set the bar high with their training program and are making an impact in their community. 
Michael, Chrome Solutions' CEO, has grown his business into the powerhouse that it is today. With his world of experience, he is among the best in the business when it comes to growing new leaders. The training program at Chrome Solutions can be broken down into five parts: hands-on experience, mentorship, a fast-paced environment, philanthropy and amazing company culture. 
Michael believes that the best way to train young leaders is to give them as many experiences as possible. That's why from the minute new team members walk through Chrome Solutions' doors, they are thrown into the action of what it's really like to run a business. The environment is very fast paced where each day the team is learning something new. The seasoned team members become knowledgeable and start mentoring their own teams very quickly. The entire team is student-minded, trusts one another and are all working towards the end goal of delivering the best service for clients.
A major piece of Chrome Solutions' training program is giving back to the community. Not only does philanthropy help show appreciation to the area, but it also strengthens those bonds between team members. Throughout the years, Chrome Solutions' culture has become more and more close-knit, where we're more than just colleagues, we're family. Michael says, "Having a vision that goes beyond steady profits means our people are more engaged in their work. Just knowing that Chrome Solutions is a company that cares helps team members feel inspired to do their best. They get a morale boost with every giveback event that powers their teamwork on the job."
At Chrome Solutions, team members work very hard to give the best service to clients, the team and the company overall, but we cannot forget about having a little fun to celebrate our success. Weekly team nights are a way for our team to relax and recharge together. The team enjoys sports and games the most because it involves a little friendly competition.
Making an impact in our community in 2019
In 2019, there will be a lot of new faces in the office and this means a lot of opportunities to grow new leaders, a lot of new ideas coming in and more opportunity to give back to the community. It is a privilege to be at the level in business that you get to give back and support those who need it most. Chrome Solutions is setting goals to spearhead monthly philanthropic efforts this year.
In March, the company led a food drive in our office between March 2-12. Everyone gathered canned goods, pasta meals, rice, baked goods ingredients and much more. The team donated these items to a local soup kitchen near our office. Our employees hope to do these each month in order to give back to a community that has shown us so much love.
As Chrome Solutions is constantly refining the work done here. The team continues to expand with new leaders who are dedicated to accomplishing big goals and serving the community. It's motivating and inspiring to watch as the team gets better and better each day. To stay up to date with what's new in the Chrome Solutions office, follow on all of our social channels and our website: www.ChromeSolutionsInc.com.
About Chrome Solutions:
Chrome Solutions' team has earned a solid reputation for driving customer acquisition rates. The associates' simple yet effective model allows them to connect quickly with customers on a personal level. They excel at creating engaging and memorable brand experiences that help generate a positive buzz about services. The team thrives on staying ahead of market trends and helping brands achieve their outreach goals. Ongoing learning and growth opportunities ensure that team members have the resources needed to give brands a competitive edge. Performance driven, Chrome Solutions' talented team has the knowledge and passion that begets success. Learn more by visiting ChromeSolutionsInc.com.
Source: Chrome Solutions
Share: